Sam DeNicola has been cycling nearly all his life, but only started baking about eight years ago. In 2019, he combined both of his passions to form Bread Bike, an organic, local bakery that delivers their loaves by bike across San Luis Obispo. We met up with Sam to learn more about what makes a Community Supported Bakery, how he's grown his one bike and one baker operation to a thriving business, and future plans for a permanent location.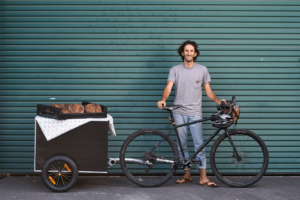 How did you come up with the idea for Bread Bike?
A friend of mine asked if I wanted to build a bike trailer with her so that we could bake and give food away to people on their morning bike commute along the bike path. I said "Of course!". I had set the intention to make and share as much food as I could with as many people as possible in this community. Once we finished the trailer and shared our baked goods on the bike path, I just kept baking at home and biking to people's homes. 
Favorite bread to bake? 
Our everything loaf in the rustic shape because somehow it always comes out perfectly!
Eat?
Whatever new special creation Matt and Mariah have come up with most recently. It seems like I have a new favorite every month!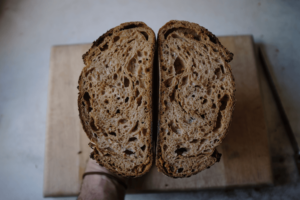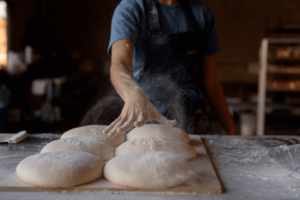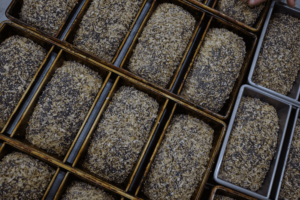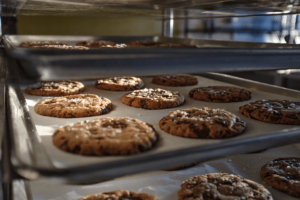 What does it mean to be a Community Supported Bakery?
It means our bakery is being built for this community and that the support of this community is core to our business model. We hope to bake for all members of our community and to one day build a space for all to gather and share.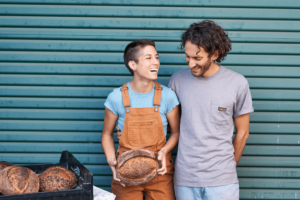 How has your membership grown since you first started?
We now have over 200 members of our community supported bakery program! Those are neighbors here in SLO that we bike bread to on a regular basis. I have a dream that we will grow to many more members with a fleet of bikes riding all around SLO county visiting you at your home with fresh baked loaves of bread.
A lot of people became home bakers during the pandemic, do you have any advice for them?
Just keep baking and keep getting stoked on dough! The more you touch dough the more you learn how to touch it. No matter what if you put your love into it and bake it fresh, I guarantee whatever you are making is going to be delicious!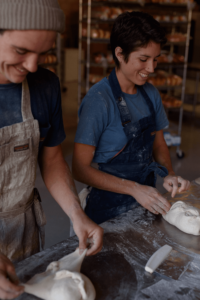 Any plans for a permanent location?
YES! Stay tuned my friends!
A lot of bakers have a story about their sourdough starter. Is there one for yours?
The starter we currently use comes from my home of Sonoma County where it was used at the bakery Mariah learned to bake bread at. We treat it well, and it treats us well in return 🙂
One last question…why should our community shop local?
Shopping local means supporting your neighbors, friends and family. Our business is run entirely by people who live here in SLO, and many of whom also grew up here. We strive to support local farmers and producers because we believe that is an essential part of creating a community that cares about their food and each other. And equally we depend on the support of the community for our continued success.