During the month of May, we recognize Asian American and Pacific Islander Heritage Month. Here in San Luis Obispo, this occasion is particularly profound, as our community has a rich history of AAPI heritage that is reflected in the artworks we're highlighting in May's monthly tour of public art.
In the 1870s, thousands of Chinese immigrant workers lived in SLO in a few-block area we still refer to as Chinatown. Most were employed as laborers on the railroad running along the coastal mountain range, while some also worked on major wharf construction projects on the coast. As time passed and public sentiment around Asian immigrants sadly grew negative throughout the nation, much of the local population of Chinese people departed SLO County. What remains is a complicated history that we aim to acknowledge, honor and explore.
This month, our public art tour zooms in on that chapter of our community's history with four pieces centered on AAPI heritage. These four are among over 100 pieces of public art that are on display for our residents and visitors to enjoy. Check out our other public art tours from February, March and April to see more.
STOP 1: CHINATOWN HISTORIC DISTRICT SIGNS
Artist: Pierre Rademaker for the City's Cultural Heritage Committee
Location: Multiple spots around the Chinatown neighborhood
Our first stop is actually at multiple locations around Chinatown, because it's the design for the historic markers installed around the area that designate it for passersby. The design for this marker, along with several others designating different neighborhoods in SLO, was developed pro bono by local architect Pierre Rademaker. The City's Cultural Heritage Committee reviewed the designs and locations before they were installed in 2016.
According to the City, there are few architectural examples left in the Chinatown District, so the concept is represented symbolically. The dragon is highly esteemed in Chinese culture, symbolizing power and good fortune. Once used to represent the authority of the Emperor, the dragon is distinguished by its claws.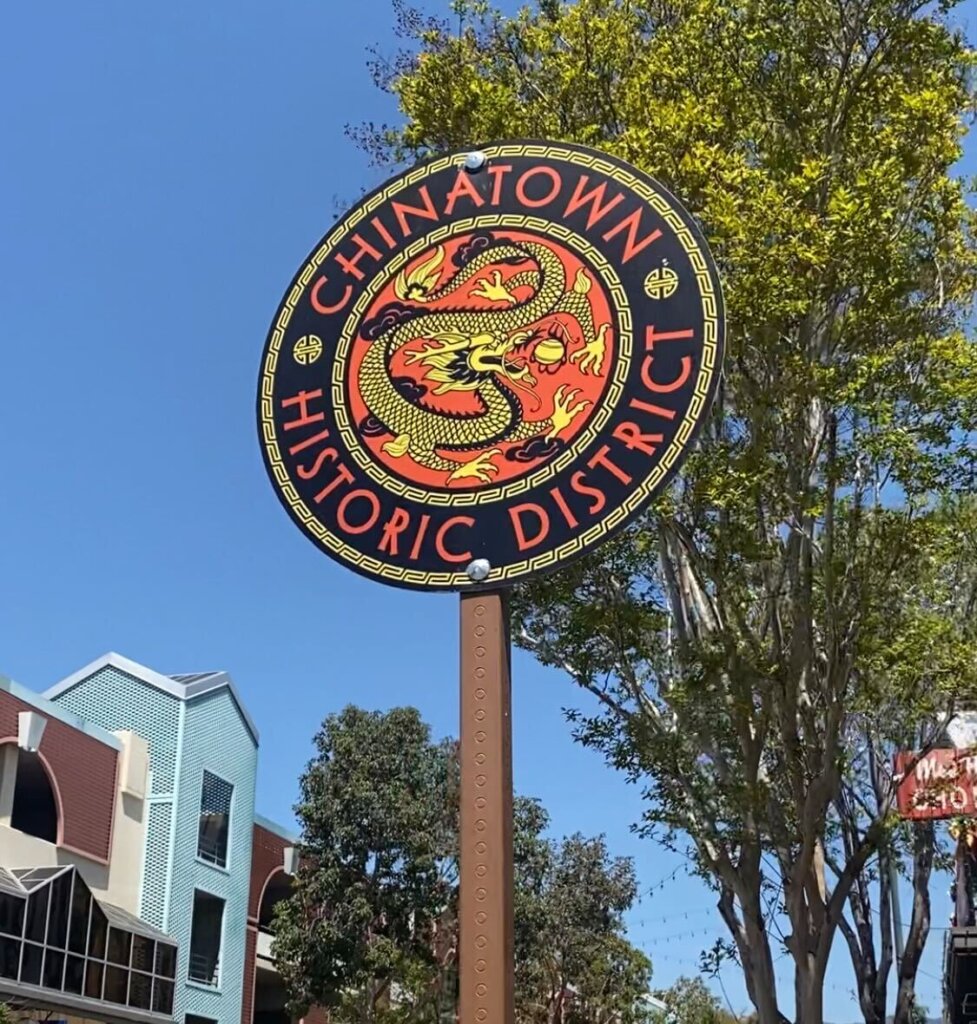 STOP 2: KOI JOY
Artist: Marcie Hawthorne
Location: Within the Chinatown District at Palm and Chorro streets
Tucked behind one of the few remaining buildings from the original Chinatown neighborhood, the Ah Louis store at the intersection of Palm and Chorro streets, is a utility box painted with traditional koi fish, a popular motif in much Asian art. In Chinese culture, they symbolize strength, perseverance, success and prosperity. In Japanese culture, this emblematic fish symbolizes courage, perseverance, bravery and love.
This design was painted by Marcie Hawthorne, a San Luis Obispo artist who has been working as a muralist, illustrator and plein air painter for decades. She combines a love of nature and art in a unique way with her residential and public art mural painting.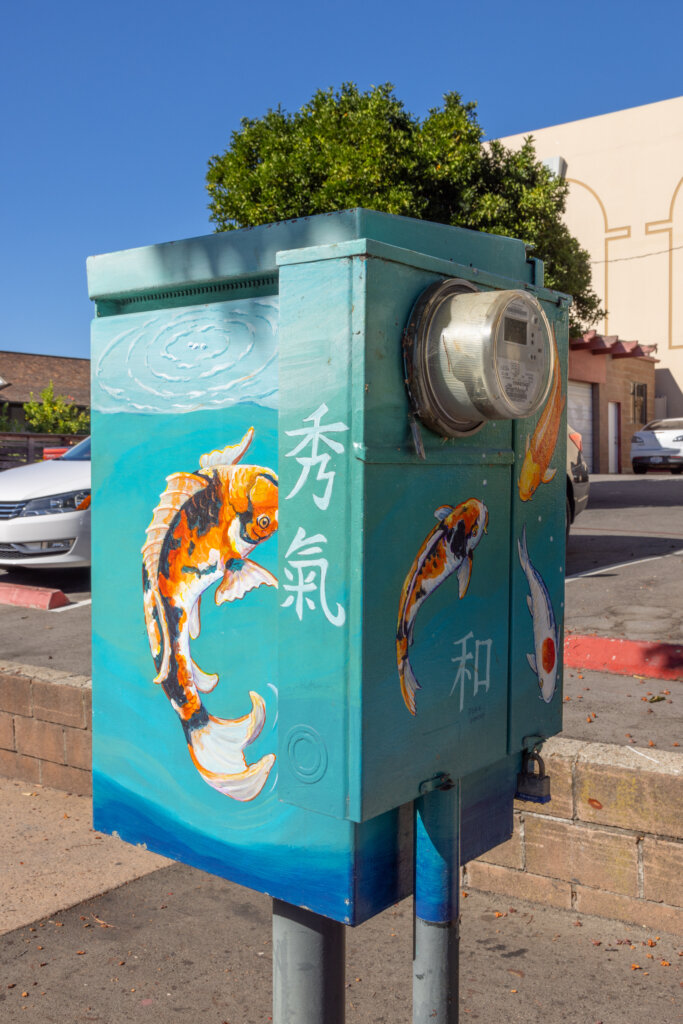 STOP 3: CHENG PARK
Artist: Alice and Larry Loh
Location: At the intersection of Santa Rosa and Marsh streets
Cheng Park was donated to the City in 2006. This Chinese Garden was the vision of retired Cal Poly professor Alice Loh and her husband, Larry, who transformed this 11,000-square-foot area into a magnificent and meditative Chinese garden with a pavilion, pond (currently drained) and lion statues, sometimes called foo dogs in Western culture. Highlights include a wood pavilion called a "ting" and a granite gateway called "paifang," which Loh and her husband acquired during personal travels to Hangzhou, China.
The park, formerly an empty lot on the corner of Marsh and Santa Rosa streets in downtown San Luis Obispo, commemorates the contributions of the Chinese laborers who settled along the creek starting in the mid-1870s.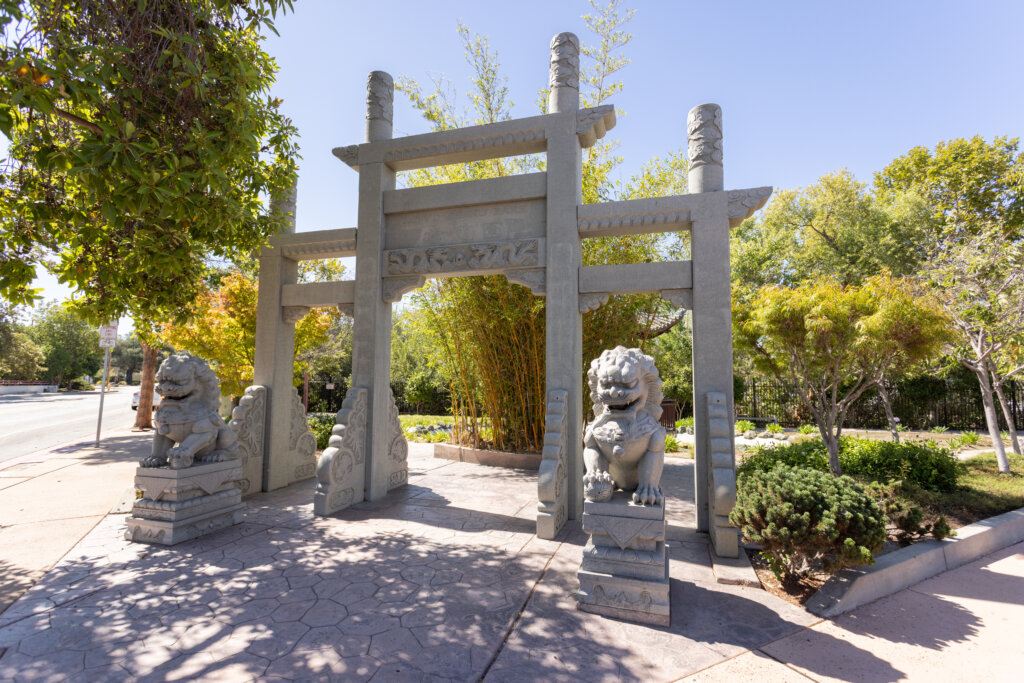 STOP 4: IRON ROAD PIONEERS
Artist: Elizabeth MacQueen
Location: 1011 Railroad Ave., in the center of the roundabout beside the Amtrak station
Our tour wraps up with a stop in the center of SLO's Railroad District, with the bronze statue called Iron Road Pioneers. Unveiled in 2003, it was created by renowned bronze fine arts sculptor Elizabeth MacQueen and pays tribute to the Chinese immigrants who toiled on the railways. A plaque at the site commemorates major fundraising efforts that contributed to its creation.
It features two traditionally dressed Chinese workers standing opposite each other levering tracks into position, a pile of rivets alongside, ready to complete the next small stage of their endless task. The 360-degree nature of this statue is striking, aptly displayed in the center of the roundabout beside the SLO Amtrak station and the nearby Jennifer Street Bridge.
That's it for our Art Starts with History tour. Check back in June, when Art Starts with Pride, for a tour of other beautiful works around town. Don't forget to follow us on Instagram to see video tours each month during our "Art Starts With" program.