Who said stickers are just for kids? Not us. Pipsticks is for anyone who still has childlike wonder inside of them, or even for those looking for it.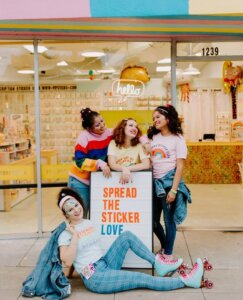 Pipsticks is a sticker subscription service founded by Maureen Vaquez in 2014, and yes — they send stickers straight to your door! While the brick & mortar in SLO is a creative's haven and hosts birthday parties and workshops, the joy of Pipsticks is available to both kids and adults alike with several monthly delivery options of stickers, printable designs, activity booklets and more! The company has grown into a sticker empire and it's core belief that little things can make a big difference is something we can all relate to right now.
We don't think you can ever have too many novelty socks, especially ones from the Sock Drawer. They have a sock for absolutely everyone in your life — stocking stuffers anyone?
The Sock Drawer is one of the largest online sock companies in the world and it was founded right here in SLO in 2007 by native, Brooke English. The shop truly has a novelty sock for everyone in your life, whether they're into funny socks, works of art on socks, or straight up weird socks. Everyone needs socks, and the Sock Drawer has bright, bold styles that fit every personality and occasion. While the store moved fully online earlier this year, their core customer is still a  "…quirky group of colorful optimists who spread the spirit of fun and funky socks and gifts into the world."