Back to basics with these (mostly female) makers working their craft right here in SLO.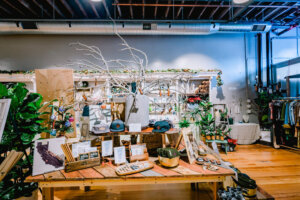 SLOcally Made is a woman-run collective of 25+ local makers and artists who have come together to bring form, identity, and purpose to the concept of shopping local this holiday season. The artists have reimagined traditional trades such as leather work, pottery, painting, basket-weaving, metalsmithing, sheepskin hide tanning, letterpress and more to curate a unique selection of handcrafted, contemporary and locally created goods. The shop will be staffed by a core group of the makers who will utilize the space to craft their one-of-a-kind goods and run the store. The pop-up shop will be in downtown SLO from December 12-24.
We think this one hits all three R's in 'Reduce, reuse & recycle'!
Boo Boo's — as the locals call it — has been a Central coast staple for nearly 50 years, feeding the musical souls of locals and visitors of all ages and walks of life. Founding partners, Ed Taylor and Glenn Forbes started by selling used collectibles and records in 1974 with just $700. Named by The Rolling Stone and Pitchfork as one of the best independent record stores in the country, the shop now not only offers vinyl but has added books, art and lifestyle items for those who just can't get enough of the iconic shop. If you can make it to SLO, browsing the aisles is a must do, but until then supporting a local record store and getting a piece of groovy history is the next best thing.