It's the most wonderful time of the year, and downtown SLO is full of life and holiday cheer! Across downtown, you'll find beautifully designed banners celebrating the diversity of cultures and traditions found here on the Central Coast. Here's a sneak peek of each of the festive banners, along with some insight about the rich traditions they represent. Take a stroll through town, and see if you can spot them all.
New Year's Celebration
In the United States, New Year traditions include fireworks, counting down to the stroke of midnight, making New Year's resolutions, and singing Auld Lang Syne. Featured on the banner is the Volny Heritage Clock located on the corner of Monterey and Osos streets. The SLO Children's Museum celebrates Noon Year's Eve each year celebrating in the afternoon rather than at night. New Year's Eve is December 31, 2021.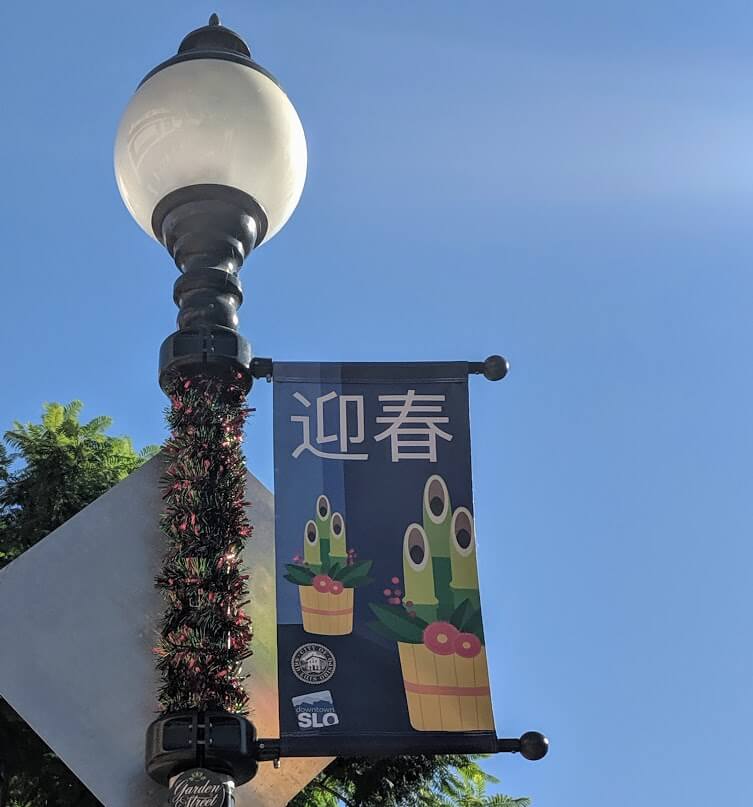 Kadomatsu
The kadomatsu featured on the banner are traditional Japanese decorations placed in pairs in front of homes to welcome ancestral spirits or kami of the harvest. They are placed after Christmas until January 7 and are considered temporary housing for kami. The characters coupled with the kadomatsu imagery deliver a message of 'Happy New Year'. On the last day of the year, the Japanese tradition of Omisoka is observed. People often complete activities for the concluding year, such as house cleaning and repaying debts, in order to start the new year fresh. Omisoka is December 31, 2021.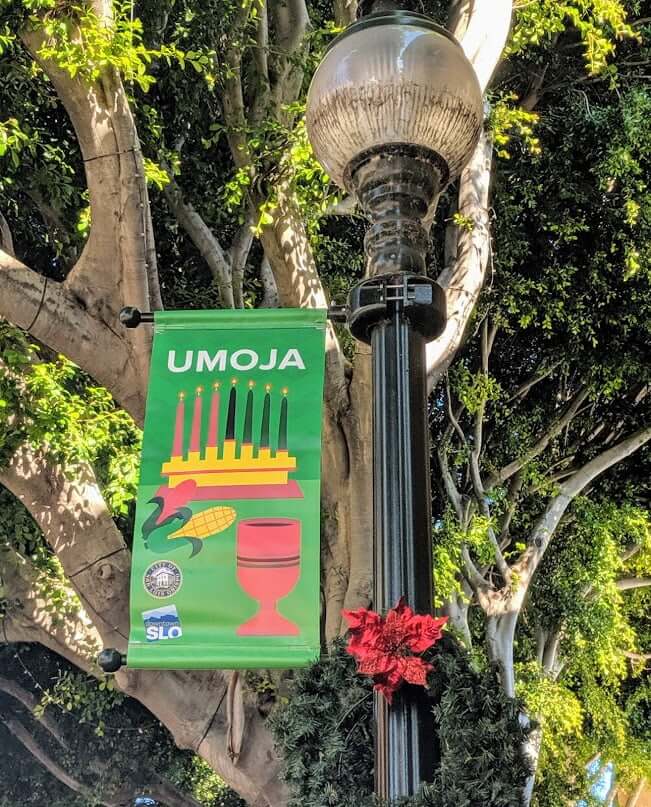 Kwanzaa
Kwanzaa is a week-long celebration to honor African heritage, culminating in gift-giving, and a feast. There are 7 principles of Kwanzaa: Umoja (Unity), Kujichagulia (Self-Determination), Ujima (Collective Work and Responsibility), Ujamaa (Cooperative Economics), Nia (Purpose), Kuumba (Creativity), Imani (Faith). Kwanzaa symbols shown on the banner include: a Kinara (candle holder), Mishumaa Saba (seven candles), Mahindi (corn), and a Kikombe cha Umoja (unity cup). Kwanzaa 2021 begins on December 26 and ends on January 1, 2022.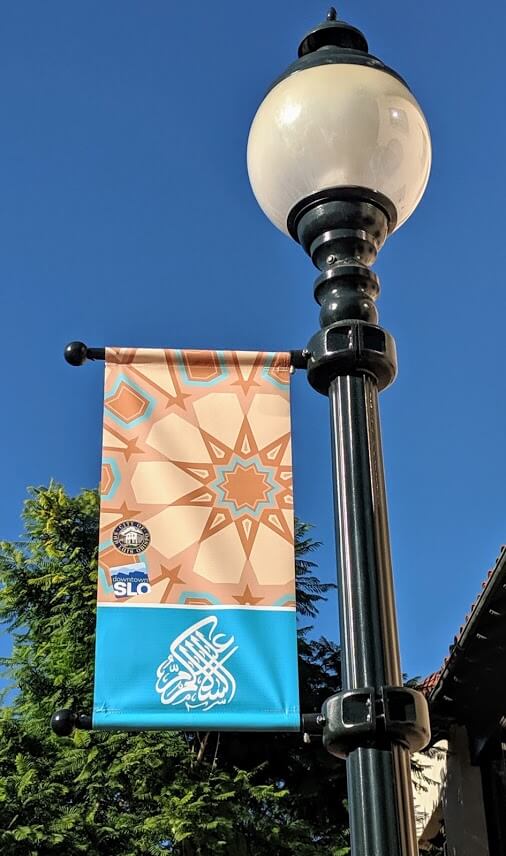 Assalamu Alaikum
The symbol featured on this banner, Assalamu Alaikum, is a year-round greeting in Arabic that means "May peace be upon you." The graphic element is inspired by a Turkish architectural design.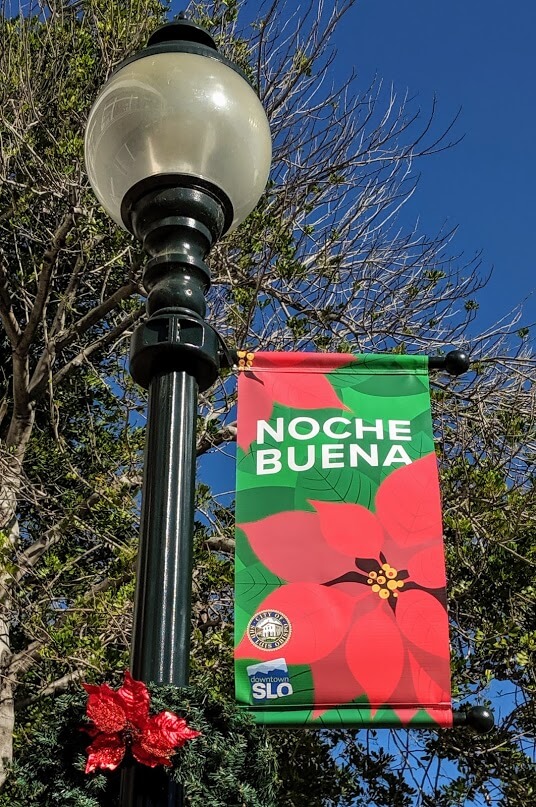 Noche Buena
In Spanish cultures, Noche Buena (Christmas eve) is often a bigger celebration than Christmas day. Families gather together to share a special meal and celebrate with music and dancing. Poinsettias are a popular symbol and are called "Flor de Noche Buena." Noche Buena is December 24, 2021.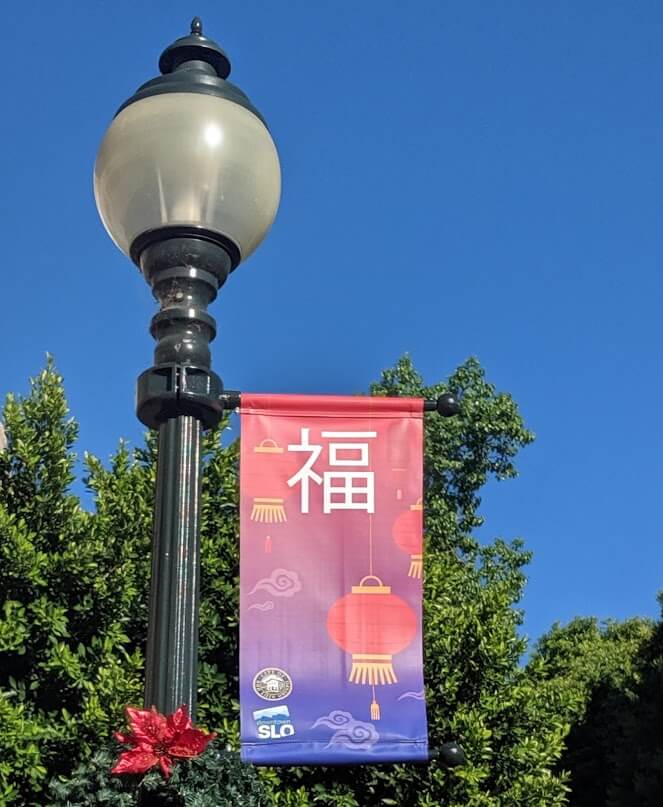 Chinese New Years
Chinese or Lunar New Year is the festival that celebrates the beginning of a new year based on the traditional Chinese calendar. Customs for celebrating vary widely around the world: families might gather together for a dinner or thoroughly clean their house to make way for incoming good luck. Often celebrations include lighting beautiful lanterns which have been featured in the design along with clouds signifying good luck. The Fú character included means fortune. The Chinese New Year begins February 1, 2022.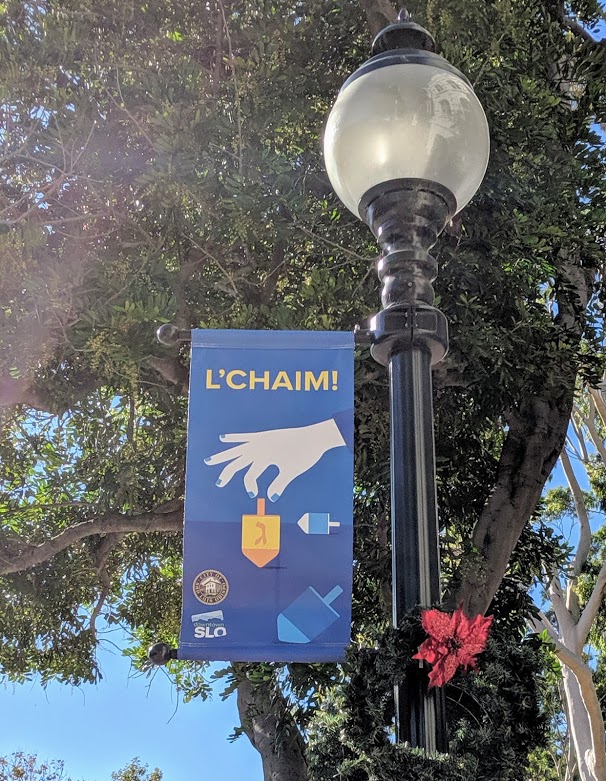 Hanukkah
Hanukkah is the Jewish eight-day "festival of lights," celebrated with a nightly menorah lighting and games including dreidel, as pictured on the banner. The 4 Hebrew letters on the dreidel stand for "A Great Miracle Happened There." L'Chaim in Hebrew is a toast meaning "to life!" Hanukkah 2021 begins in the evening of November 28 and ends in the evening of December 6. There will be a nightly candle lighting ceremony outside Mission San Luis Obispo each night of Hanukkah at 5 pm.