Where to Go & What to Sip This September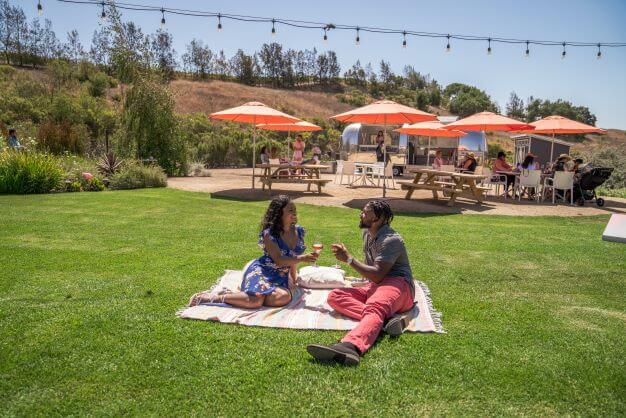 The end of summer in SLO means the start of fall, and what better way to kick things off than with California Wine Month? Every September, vineyards and wineries around the state—including San Luis Obispo—raise a glass to centuries of West Coast tradition.
Special events, exclusive vintages and much more are waiting to be sampled, so this fall, stay in SLO and get front-row seats to some of the finest tastings and tours available. Here are our can't-miss recommendations–cheers!
RSVP to Special Events
Vintners and growers alike have their own unique ways of celebrating California Wine Month. Live entertainment, special menus and limited-time vintages are just a few of the yearly offerings, and you can rest assured there's always something going on (and always something delicious to sip) somewhere close by. Be sure to download your free SLO Winery Map before you head out.
Happy Hour Fridays
Where: Claiborne & Churchill Winery
What: Reserve your spot and enjoy live music with local food vendors.
When: Every Friday in September
Local Food & Music Series
Where: Laetitia Vineyard & Winery
What: Local artists and food vendors gather here every weekend afternoon.
When: Every weekend in September
Chef's Garden Gala
Where: Niner Wine Estates
What: A coursed celebration of the winery's summer garden.
When: Friday, Sept. 23
Music in the Meadow
Where: Stolo Vineyards
What: Adults-only concerts with wine by the bottle and charcuterie options.
When: Thursdays from 3:00 p.m. to 5:00 p.m.
Sunset in the Vineyard
Where: Wolff Vineyards
What: Food trucks, live music and wine by the glass or bottle.
When: Every Friday in September from 5:00 p.m. to sunset

Stay in Town
Winery and vineyard tours in SLO can–and often are–all-day events. It's good to know that after the day is done and all the wines have been tasted, your bed is never too far away.
San Luis Obispo's hotels range from classy to eclectic and everything in-between. Not only do many of them hold hundreds of years of history, plenty of them also offer pet-friendly accommodations (as do quite a few of our local wineries). Embark on adventures deep into SLO wine country and return to comfortable beds, nearby eats and local attractions after a delicious day out.
Find your perfect homebase away from home today. Browse hotels and homestays now – and be sure to book sooner rather than later. September attracts wine aficionados from all over the country to celebrate California Wine Month, and we don't want you to miss out on this year's festivities.
Book a Private Tour
With so many wineries hosting live entertainment and tastings, it's easy to experience California Wine Month in SLO like a local (while meeting the locals, too). But if you prefer a more up-close and personal experience with our local growers, we recommend booking a private tour* for yourself or your group. It's the best way to catch some one-on-one time with the masterminds behind our most-loved vintages.
*Always check directly with the winery or tour provider for the most recent information.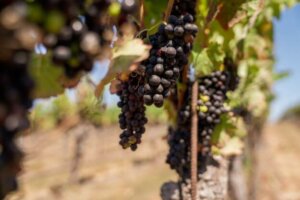 Breakaway Tours is the go-to provider for vineyard and tasting room excursions around San Luis Obispo. They offer corporate and group tours, and they can help facilitate special events like dinners and celebrations. Transportation is provided so you and your guests can focus on sampling.
If getting there is half the fun for you, consider booking with Sidecar Tours. Their three-hour motorcycle wine tour takes you and a pal to two wineries plus two tasting rooms. Sit back and enjoy the ride–a private chauffeur handles all the driving in their self-titled, world's first tandem sidecar!
Education meets taste at Hearst Castle, an exciting destination for wine enthusiasts and history buffs alike. Book a Cottages & Kitchens Tour to gain access to W.R. Hearst's private collections in the underground wine cellar (though you won't be able to sip them). Many different guided tour options are available to book in advance.
Thirsty for more? Quench your curiosity with the full list of SLO vineyards and wineries–it's all in our free digital visitor's guide here.