Although we are lucky enough to have moderate temperatures year-round, SLO town has been heatin' up! Having experienced a handful of heat waves this summer we have become familiar with a few of the best places around town to cool off. From fresh sorbet and premium gelato, to old-fashioned ice cream sandwiches and sub-zero scoops, San Luis Obispo offers a variety of chilled desserts you'll crave every season.
Ice Cream & Ice Cream Sandwiches
Doc Burnstein's Ice Cream Lab
860 Higuera Street, San Luis Obispo

Open daily:  11 a.m.-10 p.m.
Doc Burnstein's is a cheery, kid-friendly destination that dishes out classic and creative flavors to tourists and locals in Downtown SLO. The moment you step foot into this mad scientist-themed parlor you experience joy and delight – and that's before you get a taste of their legendary ice cream. Doc Burnstein's isn't just a "taste good" place, they're a "do good" company as well; donating money from sales of select flavors to the Make-A-Wish Foundation, hosting "Scholarship Days" to support their hard-working college-bound employees, and donating 10% of profits to local public schools, non-profits, and blood drives. If you thought eating ice cream made you feel good, we think eating Doc Burnstein's will make you feel even better.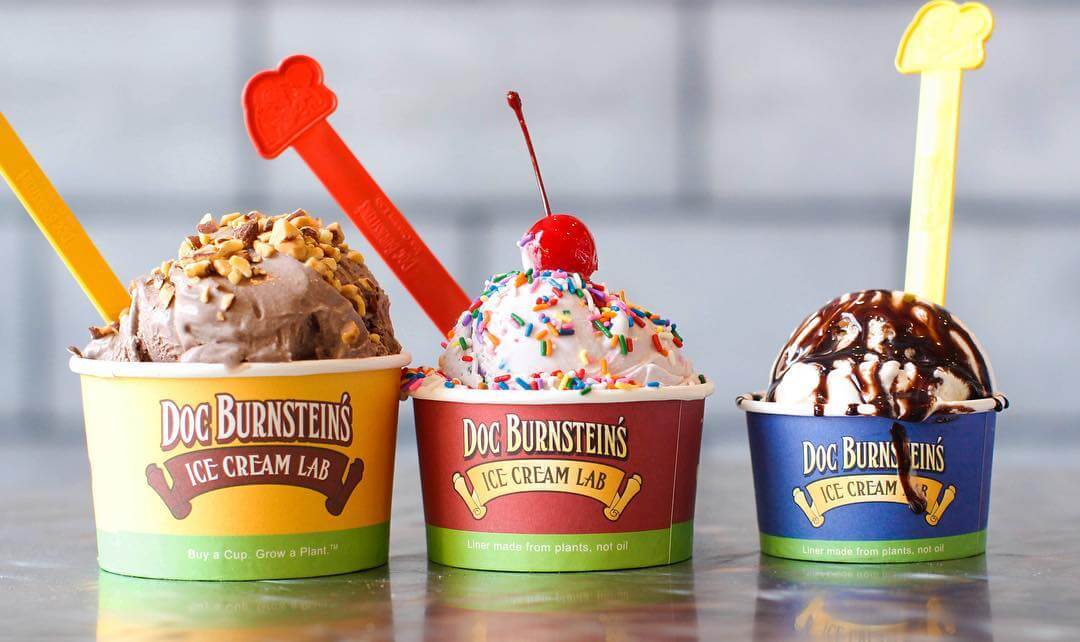 McConnell's Fine Ice Creams
868 Monterey Street, San Luis Obispo
Winter Hours (October-May)
Sun-Thurs: 11:30 am – 10 pm
Fri-Sat: 11:30 am – 11 pm
Summer Hours (June-September)
Sun-Thurs: 11 am – 10:30 pm
Fri-Sat: 11 am – 11:30 pm
With over 70 years of experience in the ice cream business—  let's just say that McConnell's knows a thing or two about making sweet treats! Although originally opened in Santa Barbara,  McConnell's Fine Ice Creams have made their way into the cones, pints and hearts of San Luis Obispo locals and visitors alike. Using ingredients "as local as your secret surf spot" McConnell's creates top-quality ice creams that range in flavor from traditional Vanilla Bean to Earl Grey & Shortbread or their Eureka Lemon & Marionberries— all by using ingredients derived from grass-fed cows.  With a history as rich as their made-from-scratch scoops, a trip to McConnell's can make a trip to Downtown SLO that much sweeter!
Nite Creamery
570 Higuera St #103, San Luis Obispo
Open daily:  3 p.m.-10:30 p.m.
Although the name may make you think otherwise, this place is not just open at night and actually refers to the way they make their ice cream: with nitrogen. No freezers, no problem! Liquid nitrogen can create smoother, creamier, and (in many people's opinion) better ice cream than your classic scoop. Open at 3 p.m., just in time for you to cool off from the afternoon heat, Nite Creamery uses liquid nitrogen to freeze all their natural, premium ingredients instantly. Don't be alarmed when you see a cloud coming from their mixers, that's just the magic happening! If the enticing vaporized nitrogen clouds don't draw you in, the scent of their "puffs" will surely do the trick! These bad boys are not your traditional waffle cone, but an indulgent, fluffy waffle to compliment your freshly chilled treat.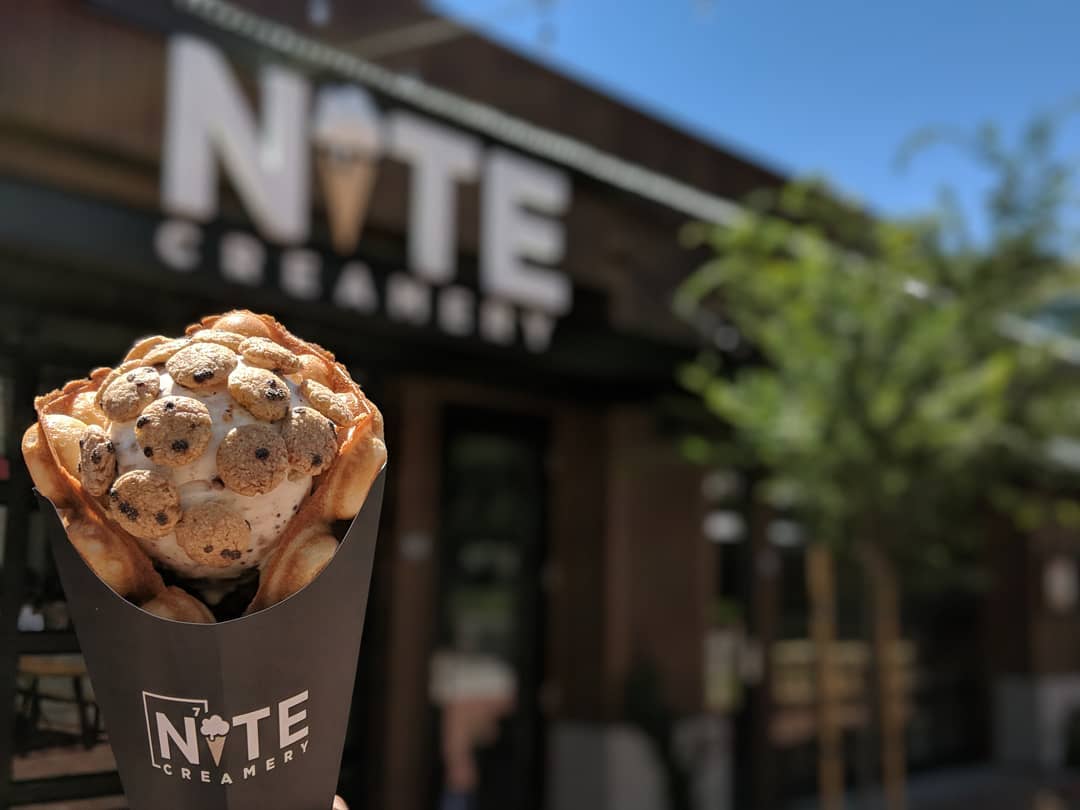 Cowboy Cookie N' Grub
778 Higuera Street # A, San Luis Obispo

Sunday:  10 a.m.-7 p.m.
Mon-Wed:  10 a.m.-6 p.m.
Thurs-Fri:  9 a.m.-9 p.m.
Saturday:  10 a.m.-9 p.m.
Although this country store is known for its freshly baked, creatively named cookies, this store dishes out some delicious ice cream sandwiches. Craving one of their "Critters" (a peanut butter cookie) or a "Wrangler" (an oatmeal coconut rice krispy)? You can have both, with a cool scoop of ice cream smack dab in the middle! Cowboy Cookie N' Grub uses only the freshest all-natural ingredients, enticing cookie enthusiasts and gaining loyal regulars to their rustic, local shop daily.
Batch
1108 Broad Street, San Luis Obispo
Sunday:  12 p.m.-8 p.m.
Monday:  Closed
Tues-Wed:  3:30 p.m.-9 p.m.
Thurs-Fri:  12 p.m.-10 p.m.
Saturday:  12 p.m.-10 p.m.
This downtown hole in the wall specializes in customized old-fashioned ice cream sandwiches, allowing customers to pick their perfect combo. From Snickerdoodle cookies to Oreo ice cream, the delicious options make creating your treat the toughest decision of the day! And for those who are gluten-free and/or dairy-free, they have some satisfying goodies for you too! Head into Batch for a picture perfect sando or even leave with a simple scoop and a side of fresh baked cookies to-go!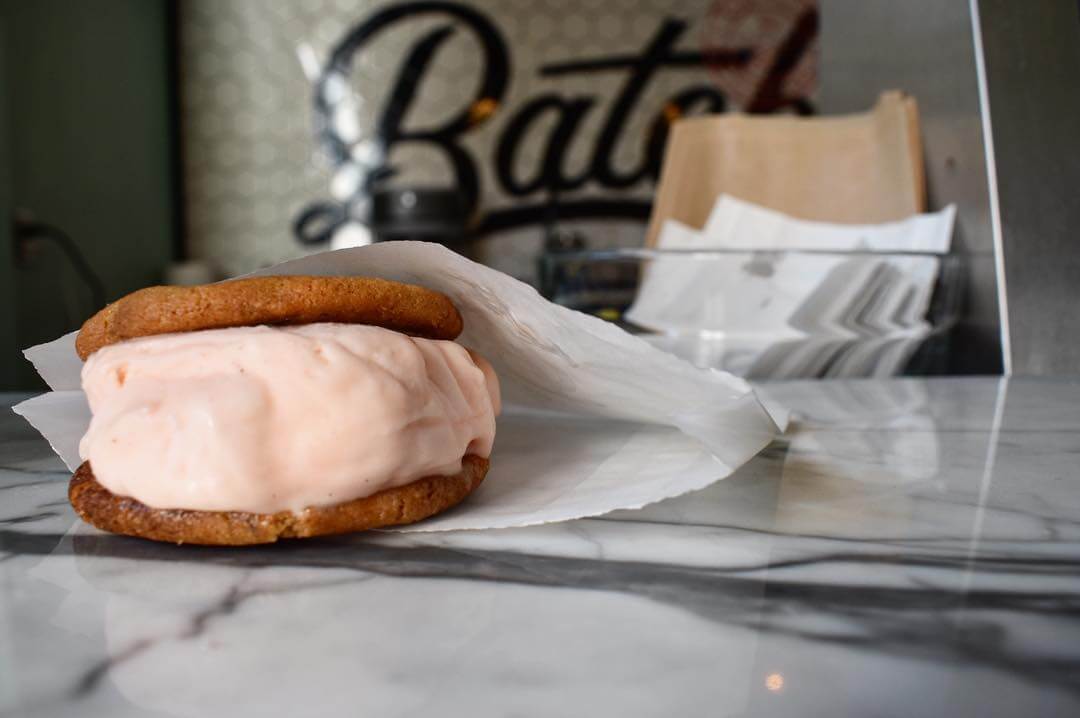 SLO Sweets
3203, 1020 Court Street, San Luis Obispo
Sun-Wed:  10 a.m.-9 p.m.
Thurs-Sat:  10 a.m.-10 p.m.
Hidden in Downtown SLO lies a sweet tooth's paradise, an old-fashioned candy shop offering a selection of classics, hard-to-find favorites, and most importantly gelato. SLO Sweets serves some high quality, note-worthy flavors that will make you feel like a kid in a candy shop.
Giuseppe's Cucina Rustica
849 Monterey Street, San Luis Obispo

Sunday:  11 a.m.-9:30 p.m.
Mon-Thurs:  11:30 a.m.-9:30 p.m.
Fri-Sat:  11:30 a.m.-10:30 p.m.
Step inside for an instant ambiance and smell of Italy. This Italian restaurant's pasta isn't the only thing that will keep you coming back; have you tried their gelato? Made with authentic ingredients and classic Italian flavors, Giuseppe's gelato will sure steal your heart and be your new guilty pleasure.
Rocky Mountain Chocolate Factory
848 Higuera St, San Luis Obispo
Sun:  11 a.m.-6 p.m.
Mon-Wed:  10 a.m.-9 p.m.
Thurs-Sat:  10 a.m.-10 p.m.
A tasty stop offering premium chocolate, caramel apples, and of course ICE CREAM. You can't say "no" to a Rocky Mountain's double-scoop in a chocolate dipped waffle cone. Indulge and cool down now, climb a mountain later!
Frozen Yogurt & Soft Serve
Snofari Frozen Yogurt
1352 Madonna Road, San Luis Obispo
Sun-Thurs:  11 a.m.-9 p.m.
Fri-Sat:  11 a.m.-10 p.m.
Away from the bustle, on the south end of town lies Snofari Frozen Yogurt, where fro-yo addicts can fill up on a variety of flavors and of course, toppings. From Ghirardelli chocolate sauce and cookie dough bites, to fresh fruit and nuts, this locally-owned joint has it all to top your frozen treat. Not only do they serve frozen yogurt, but you can also lay your hands (and taste buds) on some refreshing Italian ice.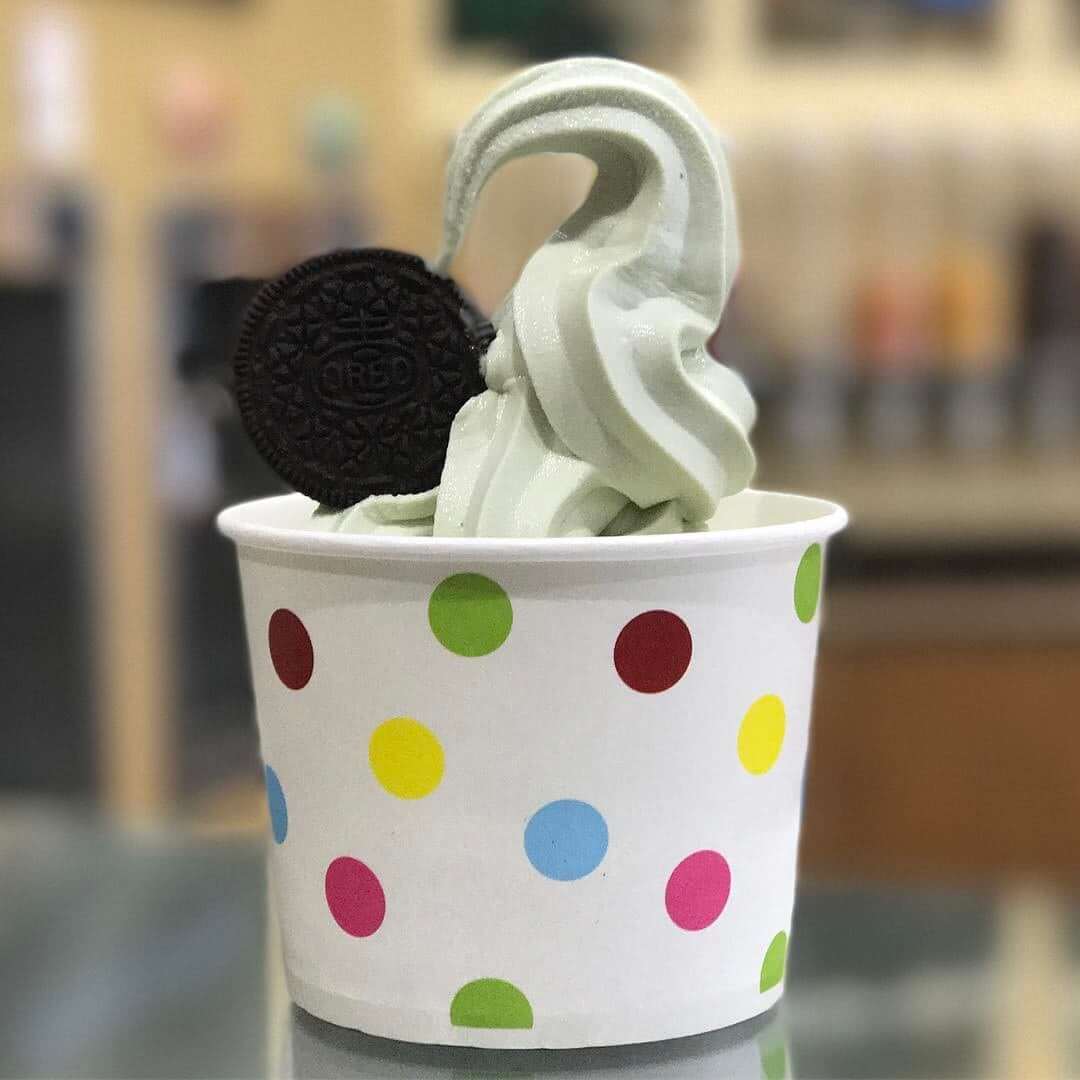 Bliss Café
778 Higuera Sreet #D, San Luis Obispo
Sun-Thurs:  11 a.m.-9 p.m
Fri-Sat:  11 a.m.-10 p.m.
Cool off creekside at Bliss Café with some vegan soft serve. This down-to-earth eatery recently started serving their own in-house, plant-based frozen desert made with homemade almond milk and other nutritious ingredients and has been a hit since the launch! Stop in for new wholesome flavors weekly.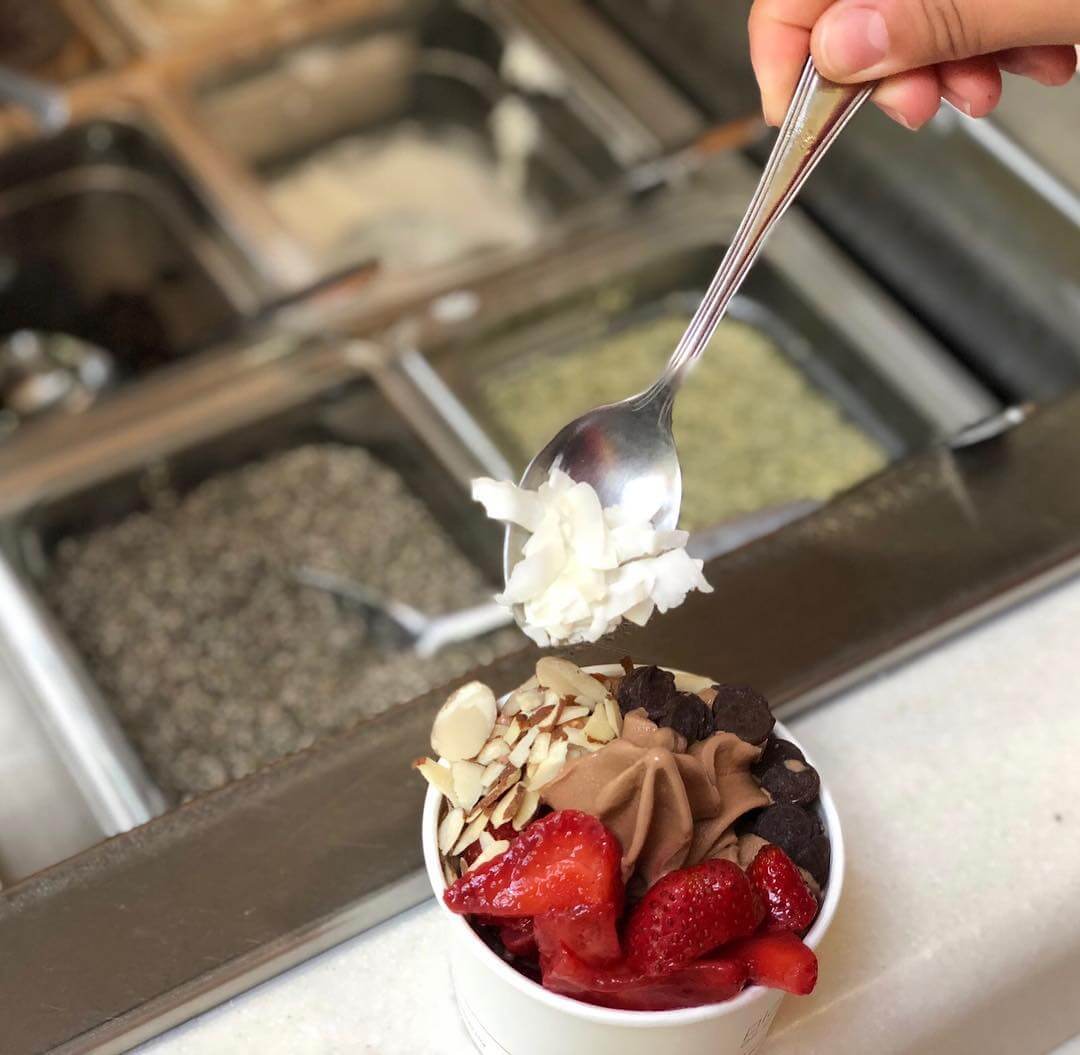 I scream, you scream, we all scream for ice cream on a hot summer's day! Although the days may be longer, life is too short to not treat yourself! Whether it is with a dairy-free sorbet or a triple scoop of Java Chip, San Luis Obispo offers all sorts of sweets for the cool down you crave.