At EnjoySLO.com locals know us for our crazy Instagram adventures to small businesses and events in the central coast. The pandemic has caused everyone to make adjustments to the way we live so we've had to shift gears in the way we support our local businesses. We are so excited to be a part of the #SLOReady Campaign and we wanted to share 8 ways for all of us to get #SLOReady together!
1) Support Through Social Media
Tag your favorite businesses in your posts to show them you care and leave them positive comments on their content. Use the hashtag #SLOReady to show your support! Write a nice review on Google, Facebook, or Yelp. Try to be flexible and understanding with our businesses at this time. If you receive service that you're unhappy about, consider privately messaging the owner beforehand instead of publicly bashing them. Business owners are always striving to do their best and they are happy to correct the issue. Remember many of them are operating outside of their normal conditions – less staff, only doing take out, outside dining, this is new for everyone.
2) Prioritize Public Safety
Public safety is a team effort. Let's remain responsible so we can continue to keep our businesses open and our locals safe. Wash your hands frequently for at least 20 seconds. Keep hand sanitizer in your car or bags. Wash your hands before you eat. Practice social distancing with others and keep a distance of at least 6 feet. Wear your masks always when visiting indoor businesses.
3) Purchase Locally Made Products
When you are visiting the market try and purchase from brands that are made locally. Restaurants, like Luna Red, Farmhouse Corner Market, Mint + Craft, SLO Provisions and many others have marketspaces that are filled with incredible locally sourced items. Most cities are still having safe outdoor farmers markets so consider picking up your produce there or visiting a local farm. You can even sign up for a local subscription box program if you don't want to leave your home.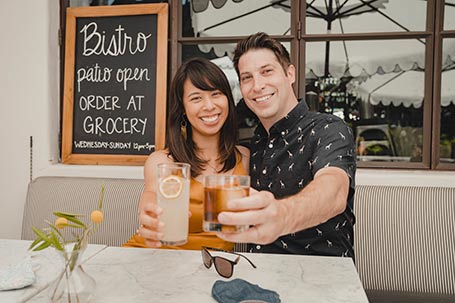 4) Hungry? Thirsty? Place an order!
Order takeout or delivery from your favorite local restaurant. Every little bit helps them stay afloat during this difficult time. Many restaurants have made menu items affordable for locals to enjoy great food. Old San Luis BBQ has family meal deals weekly, Mistura has $20 3 course meals, and Mama's Meatball has $10 entree's, to name a few. If you are looking to have a drink many restaurants are offering them for takeout. Just last week we grabbed a to-go cocktail from Granada Hotel & Bistro for after our dinner. If you're not a fan of take out, consider dining outdoors. View SLO's virtual takeout/delivery map here!
5) Choose credit over refunds
If for some reason you need to return an item, consider asking for store credit by gift card. You can continue to support your local business while getting your money's worth. This allows the business to keep that little bit of cash to help pay rent, utilities, and staff during these hard times.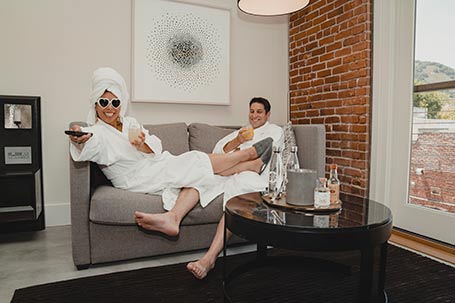 6) Staycations
This is the perfect time for a staycation! A staycation allows you to support a local business and employees while giving you a relaxing day or two away. Plus, you can avoid the extra baggage fees and gasoline costs. Our favorite kind of staycation involves a pool, we love to relax poolside at Hotel Cerro then grab a bite downstairs at their restaurant Brasserie SLO. There are a few other really great hotels that have an outdoor pool including The Madonna Inn, Hotel SLO, The Kinney SLO, and more. Grab your bathing suit and chill poolside with a cocktail.
7) Tip more generously
Our service industry has been the hardest during this pandemic. Servers and bartenders generally make close to minimum wage and rely on tips to pay their bills. With the decrease in customer base their tip income has become nearly nonexistent. Remember that those to-go cocktails and wine bottles should still be tipped on. We know times are hard for everyone but if you can give a little extra it can help a lot.
8) Get outdoors and ENJOY SLO!
Get some one on one time with mother nature. Get your mind and body refreshed by participating in outdoor fitness classes. Enjoy outdoor yoga classes, go golfing, skate, bike, go on one of our stunning hikes, surf or swim, there is so much to do in SLO. We will be taking our first outdoor yoga class with SLO Yoga Center this month and we are excited to try something new.
There are many ways to participate in our community while still staying safe! Let's continue to help one another and keep SLO open! We want to see how you are getting #SLOReady with us! Click this link and learn how you can win an amazing giveaway prize while you're at it!
Stay safe everyone and we look forward to seeing you adventuring safely through San Luis Obispo!
See more of Michelle Barrerra's work at EnjoySLO.com