Sip, Pick, and Trick-or-Treat Your Way Through October in SLO
How do you celebrate fall–spooky, cozy, or cheers-y? Whether the weather means bundling up and hitting the Halloween edition of the Downtown SLO Farmers' Market or breaking out your stein for Oktoberfest, the harvest season brings plenty to see, do, eat and drink around SLO.
We're sad to see summer go, but we're excited to welcome autumn and everything it brings in San Luis Obispo: hayrides, apple and pumpkin picking, and community events for adults, kids and families. Now if you'll excuse us, we're going to go sip this local cider–very, very slowly.
Enjoy the Harvest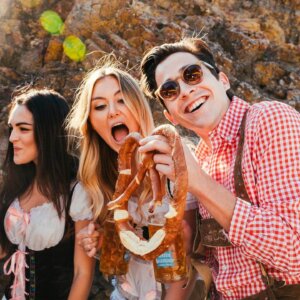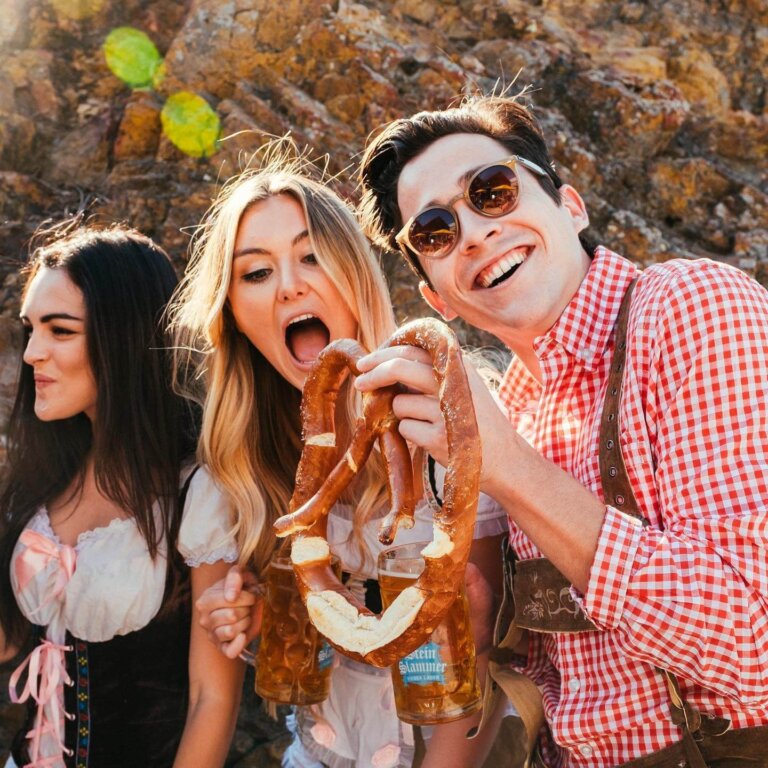 SLO County Arts Open Studios Tours | Oct. 7-15, 5 p.m. – 8 p.m.
For two weekends, fine artists and crafters welcome visitors to their studios for free tours. The event kicks off with a celebration at Bang the Drum Brewery on Oct. 7 and winds through a variety of studios displaying local arts and crafts. The event goes out with a bang via a block party at 10 a.m. Oct. 15 at the ARTery.
SLO Oktoberfest | Oct. 8, 2022 12 p.m. – 4 p.m.
The best way to stay toasty when the weather turns chilly? Toast and be toasted, of course. October means Oktoberfest, and Oktoberfest in SLO means beer, music, food and more at the Alex Madonna Expo Center. Your ticket to this 21+ event comes with a stein, a refill and unlimited tasters. Don't forget to pack your lederhosen for the stein hoisting and costume contest!
Halloween at Downtown SLO Farmers' Market | Oct. 22, 5:30 p.m.
The Downtown SLO Farmers' Market is legendary for its sheer variety of goods, produce and entertainment. In October, we like to celebrate spooky-style with a Halloween-themed market around the end of the month. Costumes are strongly encouraged and kids can trick-or-treat local vendor stalls.
Pumpkin & Apple Picking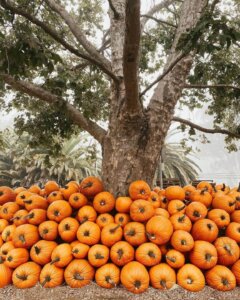 SLO Creek Farms | October – November, every day, 11 a.m. – 5 p.m.
Organic pumpkins and apples galore await intrepid produce hunters at SLO Creek Farms. Don't forget to hit up their farm stand for homemade hard cider and apple brandy tasting.
Avila Valley Barn | Every day, 9 a.m. – 6 p.m.
Along with pumpkins, visitors can go for hayrides or visit with the farm animals. Be sure to pick up fresh fruits, flowers, pastries and much more to bring home with your pumpkins!
Chesebrough Farm | October 1 – 31
Pumpkin lovers, meet pumpkin heaven: acres and acres of orange, yellow, green and gold gourds are just waiting to be picked. We highly recommend grabbing a copy of their pumpkin cookbook.
Produce Pickups
You can't pick your own at these local farms, but don't let that stop you from stocking up on delicious homegrown produce and handmade goods at their farm stands.
Canyon Fruit Ranch | September – November, 10 a.m. – 5 p.m.
Gopher Glen Apple Farm | Monday – Saturday, 9 a.m. – 6 p.m. & Sunday, 10 a.m. – 6 p.m.
Community Events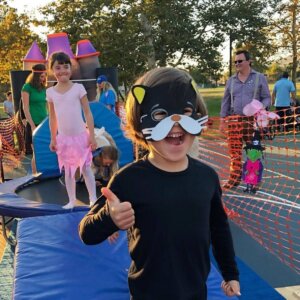 17th Annual Great Pumpkin Contest | Oct. 20, 4 p.m. – 7 p.m.
Did you by any chance grow a giant pumpkin this year? If so, the Great Pumpkin Contest in Mission Plaza is calling your name. Attend the weigh-in and compete! Forgot to grow a giant pumpkin? Happens to the best of us–swing by anyway for face painting and other family-friendly activities.
Pumpkins in the Park at Pismo Beach | Last Saturday of October, 10 a.m. – 1 p.m.
Pismo Beach says goodbye to October in style–prehistoric style. At Dinosaur Park, families with kids 12 and under can participate in a prize-filled costume contest. Not only that, crafts, pumpkin decorating, games and more means there's plenty to see and do for parents and kids alike.
Boo Bash at Meadow Park | Oct. 28, 5 p.m. – 9 p.m.
SLO Parks & Rec invites your family to a community costume contest and haunted house. Be sure to bring along some canned food for the Food Bank Coalition food drive, plus a blanket for the under-the-stars movie feature at the end of the night.
The Haunt in Atascadero | Sept. 30 – Oct. 31, Fridays, Saturdays and Sundays
Craving something more…stimulating, this Halloween season? Say no more–The Haunt in Atascadero offers premium scares for mature audiences. With plenty of skeletons and fake blood, this small group-oriented haunted house is the real deal. Leave the kids at home for this one.
If you're not a crow, head on down to Cambria and San Simeon: in October, local kids and businesses work together to put up hundreds of colorful scarecrows as a greeting for autumn travelers. But these aren't just any scarecrows–they're like you and me, and you may see some bathing, fishing or even bowling as you drive through the area.
Hungry for more? Check the SLO events calendar for more autumn events as they're added. Be sure to tag your photos (sweet or spooky–we want to see both!) with #ShareSLO.