A wide variety of SLO breweries call the Central Coast home. Traveling to San Luis Obispo is quite the delight if you enjoy a tall, frosty glass of beer. With tons of activities including exclusive brewery tours, beer festivals, special craft beer releases, food, and beer pairings tap takeovers and more, you get to choose how to celebrate the craft breweries in San Luis Obispo.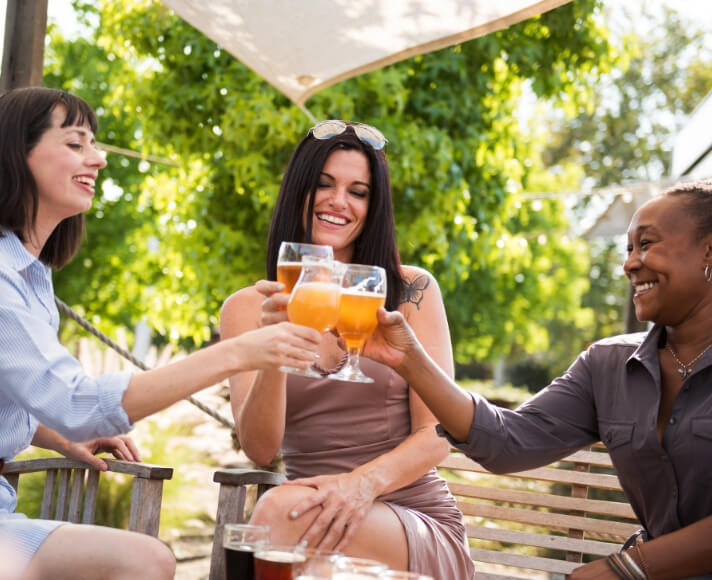 PLANNING YOUR SAN LUIS OBISPO BREWERY EXPERIENCE
With an abundance of local breweries to choose from, it's time to start planning your personal craft beer tour through San Luis Obispo. Visit large, nationally distributed macro breweries like Firestone Walker Brewing Company or small-batch, micros breweries like 7 Sisters Brewery. Local brewery shuttles are available such as the Hop On Beer Tour San Luis Obispo, which offers private tours and transportation to local breweries. And those not fond of the bitter taste of the brew, have no fear, SLO caters to the cider-loving crowd that has expanded over the years. BarrelHouse Brewing Co.'s half-acre beer garden is conveniently located next door to Tin City Cider Co., so your crew can pop over for a taste of both flavorful lineups.
Many of these SLO breweries not only serve beer by the flight and pint but offer a fun-filled atmosphere to enjoy with family and friends. SLO Brew Rock offers cornhole, ping pong, volley pong, board games and even live music on weekends. If you're craving a cold one during the week, check out Bang the Drum for Monday Open Mic Night or Wednesday Night Trivia. Have yourself a day and enjoy some tasty brews and fun games with your family and friends!
Breweries Near San Luis Obispo
SLO Beer Fests
Although the California Festival of Beers (otherwise known as SLO Beer Fest) is well-known by many locals and Cal Poly alumni, San Luis Obispo is also home to many other beer festivals. If you have a sweet tooth, you'll want to check out one of the Central Coast's cider festivals. Plan your SLO vacation around one of the festivals listed below and get ready for delicious drinks paired with endless sunshine.