Amtrak Pacific Surfliner Savings
Special Midweek Getaway to San Luis Obispo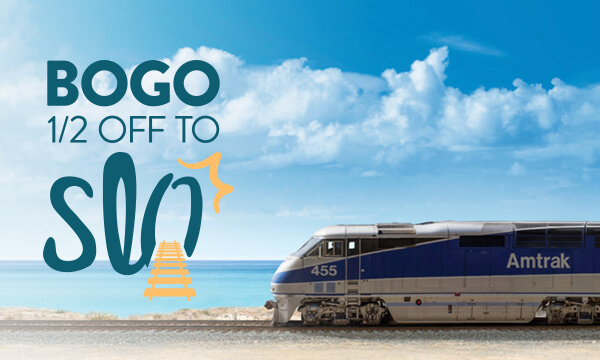 Looking to get away and enjoy some of California's most iconic scenery? Enjoy a midweek getaway with friends and family Monday through Thursday and receive 50% off companion fares!
The Pacific Surfliner passes through top California destinations such as San Luis Obispo, Santa Barbara, Ventura, San Diego and more! So, kick up your feet and relax, bypassing the busy highways, and just enjoy the views of the vibrant hills, dazzling oceans, and charming downtown areas.
San Luis Obispo makes the perfect stop on your train adventure, offering an abundance of wineries, artisanal restaurants and plenty for the entire family to enjoy, such as bubblegum alley, Mission San Luis Obispo, or simply take a walk through some of the most serene trails. We have plenty of sample itineraries for visitors to suit everyone's preferences!
To take advantage of this travel offer and see full details, please visit Pacific Surfliner to book your tickets! This is your chance to visit one of California's best-kept secrets in a fun and different way, where you can just 'SLO' down and really be here.
**Offer valid only through June 27 and requires advanced booking
Itinerary Inspiration