Holiday Happenings

Downtown San Luis Obispo has been the region's destination for making holiday memories for more than 40 years. This year, treasured family traditions return, including Santa's House, the annual Holiday Parade, a dazzling Holiday Plaza full of lights, and more!
Stores and businesses in San Luis Obispo invite you to spend and support locally this holiday season as shopping small can create a big difference. For every dollar spent at a small business in the U.S., approximately 67 cents stay in the local community.
Be sure to check out our holiday happenings guide below to explore the numerous ways you can #SupportSLO and enjoy the holiday season!
Holiday Happenings
San Luis Obispo is ready to light it up once again for the 2021 holiday season! From the Holiday Plaza and Santa's House to musical performances, a Menorah lighting and so much more, we're ready to bring the fun back for this holiday season. The magic will come to life in the downtown area of San Luis Obispo on Friday, November 26 and will run through the end of the holiday season.
Explore all the happenings in SLO below and be sure to share the holiday excitement by using #ShareSLO in your photos and tag @ShareSLO on social media. You'll spread joy and your photo could potentially be featured!
Holiday Shopping
For just a moment, forget about the supply chain issues impacting the world. The fact is, it has always been important to select local goods. Why? Because the bulk of every dollar spent on locally-produced items stays right here in the community, helping support local artisans, businesses, restaurateurs and craftspeople. With that in mind, here's a look at some ways to support local this holiday season in SLO.
Buy Local Bonus is Back!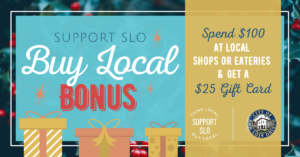 Back by popular demand, shoppers who spend $100 or more at small, local businesses (dated on or after Nov. 15), are eligible to receive a $25 gift card to another local business! This partnership between the City of SLO and SLO Chamber rewards shopping local, while also putting money directly into the hands of our local business owners. Learn more about shopping local and how to participate by visiting our Buy Local Bonus page.
As a reminder, certain mandates remain in place throughout San Luis Obispo County for the time being. Masks are required for all indoor venues. Keep up to date on local regulations by visiting our Covid-19 travel information.
Holiday Parking
The City of San Luis Obispo is offering the gift of FREE parking in all downtown SLO parking garages on Sundays and holidays from Thanksgiving to New Year's Day. Parking garages located in the downtown area are easily accessible and perfect for holiday shopping and strolling!
In addition to Sundays, free parking will be offered on the following days this holiday season:
November
Thanksgiving Day (Nov. 25)
Black Friday (Nov. 26)
Small Business Saturday (Nov. 27)
December
Christmas Eve Day (Dec. 24)
Christmas Day (Dec. 25)
New Year's Eve Day (Dec. 31)
January
New Year's Day (Jan. 1)
Overnight parking rates in the structures will still apply on free-parking days. The resolution adopted by Council also authorized the City Manager or designee to suspend collection of off-street parking fees for up to two weeks at a time during times of emergency.
Downtown SLO parking structures are located at:
871 Marsh St.
842 Palm St.
919 Palm St.
Here's a few other helpful parking reminders:
Payment and time limits are enforced at all parking meters
Loading and unloading in the bike lane on Higuera is prohibited
Parking services is expanding yellow loading zones on Higuera and Chorro Streets to accommodate deliveries for businesses
For additional parking information and rates, visit slocity.org or call 805-781-7230.