Summer 2019: Concerts You Should Be Here For
Concerts in the Plaza is truly the bread and butter of summer in San Luis Obispo—and, it has returned for its 24th year! Enjoy a warm evening in our beloved Mission Plaza swaying to the beat of local bands, enjoying wine and craft beer of the Central Coast, and being amongst a diverse mix of the San Luis Obispo community. This event is free and runs every Friday through September 13th starting at 5 p.m. See you there!
SLO Brew: The Rock is Edna Valley's hidden gem. Located alongside our world-class wine region in an up and coming craft brew district, it is truly the heartbeat of the region! Spend the day enjoying the sunshine amongst the vineyards and cap it off with live music at The Rock!
June 29, 8:00 p.m.: Jade Jackson
June 30, 7:00 p.m.: Vundabar and Together Pangea with Dehd
July 2, 8:00 p.m.: Son Little with Dante Marsh
July 12, 8:30 p.m.: Robert Delong
July 16, 7:00 p.m.: Monsieur Periné – La Sombra Tour
August 2, 8:00 p.m.: Sammy J
August 7, 7:30 p.m.: Grateful Shred
August 9, 8:00 p.m.: Harmony Beland with Black Match
August 10, 8:00 p.m.: Weyes Blood
August 11, 8:00 p.m.: Amo Amo
August 16, 8:00 p.m.: Passafire
August 21, 8:00 p.m.: Julian Marley
August 22, 8:00 p.m.: The Palms and Bay Ledges
August 23, 8:00 p.m.: Man or Astro-Man?
September 5, 8:00 p.m.: Katchafire
September 15, 8:00 p.m.: Iya Terra
September 20, 7:00 p.m.: The Paper Kites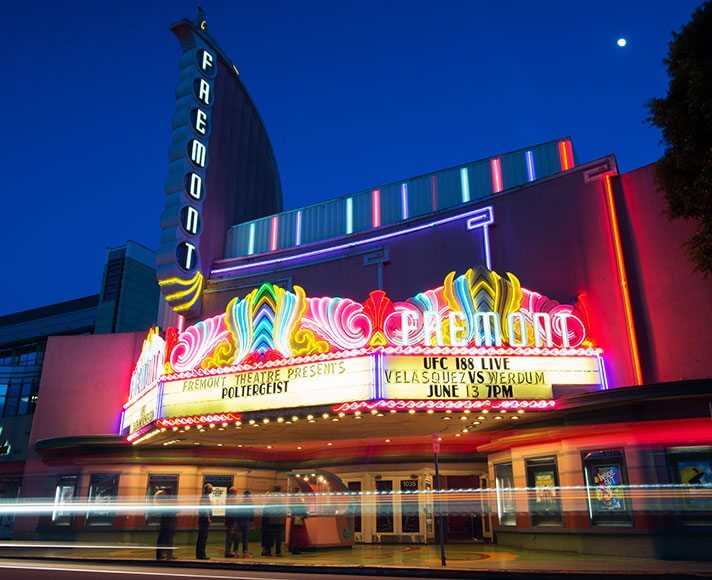 What's better than live music in San Luis Obispo's most iconic theater? Dating back to 1942, the Fremont Theater opened on the eve of World War II as a Bond Drive fundraiser. Those days may be long gone, but nowadays the Fremont is a hip place to see all kinds of live acts and shows!
July 9, 8:00 p.m.: Trombone Shorty and Orleans Avenue
July 18, 8:00 p.m.: Ward Davis
July 19, 9:00 p.m.: Common with Nicole Bus
August 15, 8:00 p.m.: The Original Wailers
August 17, 8:00 p.m.: Gin Blossoms: New Miserable Experience Live
September 9, 8:00 p.m.: Stephen Marley with DJ Shacia Payne
September 13, 6:30 p.m.: MC Magic and Lil Rob
September 19, 9:00 p.m.: Durand Jones and The Indications
September 20, 8:00 p.m.: David Bromberg
The Performing Arts Center (PAC) offers guests a world-class concert experience incomparable to anything else in the area. This state-of-the-art venue has a reputation for the ease of parking and the impeccable seating plan—there's not a bad spot in the house!
September 5, 7:30 p.m.: Jackson Browne with Greg Leisz, Aletha Mills and Chavonne Stewart
Concerts Near San Luis Obispo
This venue is truly one of a kind! Enjoy world-renowned musicians performing alongside California palm trees with a backdrop of one of the most breathtaking Central Coast beaches. Does it get more iconic than that?! 
July 7, 4:00 p.m.: Lyle Lovett and His Large Band
July 18, 5:00 p.m.: RÜFÜS DU SOL, Solace Tour
August 2, 4:00 p.m.: Slightly Stoopid
August 9, 4:00 p.m.: Buddy Guy with Jimmie Vaughan, and Charlie Musselwhite
August 14, 4:30 p.m.: 311 and Dirty Heads with Special Guests
August 31, 2:00 p.m.: Woodstock on the West Coast | Pops by the Sea
September 20, 5:00 p.m.: Maren Morris, Girl the World Tour with Hailey Whitters
Nestled away in the rolling vineyards of Paso Robles, Vina Robles Amphitheatre is one of the largest outdoor venues along the Central Coast. This venue features a variety of seating options, from general admission lawn seats to VIP passes, as well as multiple bars offering local wine and beer.
June 5, 7:00 p.m.: Jim James + The Claypool Lennon Delirium
July 24, 8:00 p.m.: Chicago
August 4, 6:30 p.m.: Gipsy Kings featuring Nicolas Reyes & Tonino Baliardo with Special Guest Simi
August 6, 7:00 p.m.: Lord Huron
August 9, 7:00 p.m.: Los Lonely Boys, Los Lobos & Ozomatli
August 10, 7:30 p.m.: Counting Crows
August 18, 8:00 p.m.: The Avett Brothers + Special Guest Lake Street Dive
August 22, 7:00 p.m.: Steve Miller Band and Marty Stuart and His Fabulous Superlatives
August 24, 8:00 p.m.: Kacey Musgraves + Special Guest Poolside
August 25, 7:00 p.m.: ZZ Top + Cheap Trick
August 31, 8:00 p.m.: Ringo Starr and His All Starr Band
September 17, 8:00 p.m.: Earth, Wind & Fire
September 18, 7:30 p.m.: Josh Turner + Special Guest Alana Springsteen
September 21, 8:00 p.m.: Death Cab for Cutie + Special Guest Hazel English
America's favorite fair is back for 2019! Among the various activities, shows, and exhibits, this year's Mid-State Fair will host dozens of live concerts, featuring headliners like Miranda Lambert, Cardi B, Blake Shelton and more. Check out the complete list of shows headed to the Paso Robles Event Center from July 17-28.
The following concerts are free with paid admission to the Fair. Seating is "first-come, first-served."
July 17, 6:30 & 8:30 p.m.: Smash Mouth
July 17, 7:00 p.m.: Kenny Taylor
July 18, 6:30 & 8:30 p.m.: Home Free
July 18, 7:00 p.m.: Monte Mills & The Lucky Horseshoe Band
July 19, 6:30 & 8:30 p.m.: The Man in Black
July 19, 7:00 p.m.: Bear Market Riot
July 20, 6:30 & 8:30 p.m.: The Fabulous Thunderbirds
July 20, 7:00 p.m.: B & The Hive
July 21, 6:30 & 8:30 p.m.: Tiranos Del Norte
July 21, 7:00 p.m.: The Turkey Buzzards
July 22, 8:00 p.m.: Danny Gokey
July 22, 7:00 p.m.: Code Blues
July 23, 6:30 & 8:30 p.m.: Mason Ramsey
July 23, 7:00 p.m.: Graybill
July 24, 6:30 & 8:30 p.m.: BERLIN featuring Terri Nunn
July 24, 7:00 p.m.: The Noach Tangeras Band
July 25, 6:30 & 8:30 p.m.: Thompson Square
July 25, 7:00 p.m.: Mark Adams
July 26, 6:30 & 8:30 p.m.: Elton The Early Years
July 26, 7:00 p.m.: Natalie Haskins Band
July 27, 6:30 & 8:30 p.m.: The Wild Feathers
July 27, 7:00 p.m.: Yellow House Orchestra
July 28, 6:30 & 8:30 p.m.: Luis Coronel
July 28, 7:00 p.m.: Shawn Clark
The following shows are ticketed, with various packages available at differing prices.
July 17, 7:30 p.m.: Miranda Lambert
July 18, 7:30 p.m.: Pat Benatar & Neil Giraldo and Melissa Etheridge
July 19, 7:30 p.m.: Billy Idol
July 20, 7:30 p.m.: Cardi B
July 21, 7:30 p.m.: Blake Shelton
July 22, 7:30 p.m.: Why Don't We
July 23, 7:30 p.m.: Lynyrd Skynyrd
July 24, 7:30 p.m.: Zac Brown Band
July 25, 7:30 p.m.: Old Dominion
July 26, 7:30 p.m.: Smokey Robinson
It's time to get out and enjoy the beats of the Central Coast this summer! Book your San Luis Obispo Vacation today!