When you're here, you're a local.
Updated April 2023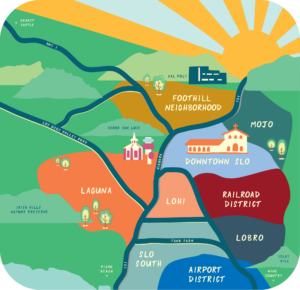 Connect with the small-town spirit of SLO

Explore our nine unique neighborhoods: MoJo, LoBro, Railroad District, Foothill Neighborhood, Laguna, SLO South, Airport District, LoHi and Downtown. Within each, you'll discover the local spirit in every place and person you meet – from the friendly baristas to the hikers and bikers who wave hello on every trail. Go beyond Downtown and venture somewhere new in SLO. Welcome to the SLO life.
LoBro
In LoBro, you'll find plenty of space to play and local secrets to uncover. Located at lower Broad Street and Orcutt Road, this neighborhood awakens your inner artist and invites you to discover the hidden gems that abound in this tucked-away pocket of SLO. Get groovin' at Broad Street Pub, where local bands are always in rotation. Fuel up at locally owned joints like BlackHorse Espresso and Taste! Craft Eatery. There's a constant rumble of new activity underway here…don't sleep on LoBro! You never know what you might find.
MoJo
Fuel the fun in MoJo with the food, drinks and good vibes. And don't stop the fun there – consider this the ultimate stop for game night, with places like Benny's Pizza Palace and Social Club, Schoolyard Burgers and Brews and Gino's Pizza where you can play air hockey, giant Scrabble or a few rounds of trivia. In MoJo, you'll find breathtaking mountain views, easy access to the Cal Poly campus and Downtown SLO and a direct entrance north to Highway 1. Plus, with a plethora of grab-and-go dining within walking distance, MoJo offers something delicious for everyone.
Railroad District
Don't let the name fool you. The Railroad District is much more than a train station. This historic neighborhood is remarkably enterprising, with old-school charm and many diverse businesses and restaurants. Hop aboard the Amtrak Pacific Surfliner and soak in coastal California views.
SLO South
It's no secret that San Luis Obispo has an abundance of places to get hydrated. Whether you like wine, craft beer, kombucha or coffee, head to SLO South, the city's unofficial beverage district. At the corner of Tank Farm and South Higuera Street, this vibrant part of town is full of historic sites, trails, restaurants and shops to explore. For a sampling of all the Central Coast's offerings, head out to the brand new SLO Public Market, a gathering spot where you can grab a bite, a cup of joe, a scoop of ice cream and much more, all in one place. Cheers to the SLO life! 
Foothill
Cruise through Foothill for a variety of food, shopping, fitness centers and more. This lively neighborhood sits along Highway 1 with convenient access to Cal Poly and coastal beach towns to the north. Take Foothill to popular hiking trails for sweeping 360-degree views of San Luis Obispo and get the full SLO experience. Go Mustangs!
LoHi
Calling all free spirits and chill seekers! Nestled between Downtown and Higuera Road, LoHi is the quintessential spot to broaden your horizons – whether you're catching up on life with a friend over coffee at Ascendo, hunting for vintage treasures at A Satellite of Love or nourishing yourself (and the planet) with freshly baked sourdough from Bread Bike. There's plenty of greenery to explore here too, like the central trails of South Hills Open Space and pickleball courts of Meadow Park. Here in LoHi, you're invited to just kick back, take a deep breath and enjoy the good vibes. 
Airport District
Soak up the good life in the Airport District, SLO's gateway to wine country. Here, you can visit craft breweries, regional wineries and a local distillery all within minutes of each other. Plus, take a peek into the city's entrepreneurial side as you explore the area, which is surrounded by innovative businesses and tech companies. This neighborhood is just a short distance to Downtown SLO and offers easy access to travel. Swing by for a truly one-of-a-kind airport experience.
Laguna
Laguna is the intersection of convenience and adventure. When you head to this part of town, you can either check off your entire to-do list or engage in some serious fun. For those on an errands run, a trip to Laguna will leave you feeling accomplished. Hit name brand stores to grab all of your shopping essentials and then some. For those on a quest for quality outdoor time, this neighborhood is quite the recreation hub. Find miles of trails, golf courses (of the regular and disc variety), an indoor archery range, a dog park and of course, Laguna Lake itself.
Keep in Touch
Sign up to receive more information about San Luis Obispo, details about upcoming events, special promotions and more!
Open Itinerary Modal