For World Kindness Week, we wanted to talk with a local business that works to exemplify kindness in everything they do. Bliss Café has been spreading kindness in SLO since 2012, from their plant-based menu to the products they carry to their business ethos. This week in November is meant to bring people together and help make the world a better place, which Bliss strives to do every day. We sat down with co-owner and general manager, Dara Stepanek & co-owner/founder/chef Palaka Das to learn more about plant-based eating, their BYO campaign, and some exciting plans for a blissful expansion.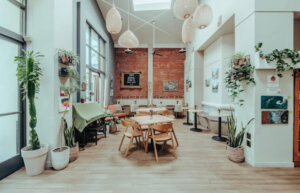 If someone had no experience with a vegan diet, what would be your quick pitch for going plant-based?
Every time we eat or consume something, it is an opportunity to tilt the needle to be in better alignment with our goals/values for ourselves & the collective. Any time someone chooses to consume a plant-based diet over an animal-based diet, they are choosing to use less resources (water, land, greenhouse gases & emissions, etc).
It is very empowering to be able to say 'yes' to something knowing it's benefits, rather than choosing to eat something that comes from a place of deprivation. You can choose a plant-based diet without shame or guilt of what you already enjoy eating. Go at your own pace, get creative, & get stoked! When we come from a place of choice and empowerment, we naturally gravitate to that more energetically aligned decision for our bodies & the planet. 
— Dara
Do you have a favorite item on the menu right now?
The Protein Buddha is my favorite dish on the menu because it reminds me of the food in Brazil. It has sautéed kale and golden roasted potatoes over rice & beans, and is topped with grilled tofu, avocado and dressing. 
—  Palaka
What does kindness mean to you?
To me, kindness means oneness. We are all one kind, the human kind. There is an understanding that we all belong to each other & never have to ride anything alone. As one human kind, we can take accountability for ourselves, how we take care of ourselves, & how we take care of each other. This is the core of Bliss. 
— Dara 
Are you doing anything special to celebrate World Kindness Week?
We don't have any specific plans for World Kindness week as we try to offer kindness on a daily basis. We consider ourselves to be a kind community.
How does Bliss practice sustainability?
Bliss is an all organic, local & plant-based restaurant — which means we produce 95% less water, land, greenhouse gases, emissions and waste. At Bliss, we encourage our community to remember self-reliance so we can create radical change. 
One way we encourage this activity is our BYO Campaign. Customers get $1 off every entree or drink they bring in a reusable container. When individuals develop a habit of bringing their own cutlery, we build an infrastructure that is beyond plastic. We choose quality & care over convenience. When the choice is do nothing or do something, we know which choice we are making. 🌱 — Dara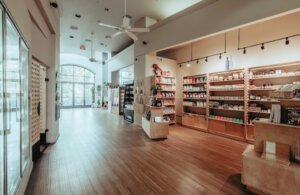 So, Bliss Café began restructuring in 2019 and then the pandemic hit. How have the last couple years changed the business?
The pandemic was a pivot point into bringing our Marketplace, Product Line (grab 'n go) & CBD Hemp Line to full operation. We now sell our grab 'n go products at 4 different locations on the Central Coast. Our Marketplace has bloomed into an open space filled with local goods, drinks/snacks, sustainable clothing, candles, Ayurvedic beauty, supplements and so much more! Our CBD is our most recent development and is curated with the intention to provide easy & sustainable ways for our customers to promote ancient knowledge for the present being. Our CBD products are very versatile and can be used to cook, put directly into food or drinks, or as a sublingual (under the tongue). 
We are very grateful that Bliss was fully supported during the pandemic. We believe that the last couple of years have opened up space energetically for us to anchor in our goals & values as a whole. 
— Dara 
Exciting plans for the future?
Long term — Opening our Blissful Epicenter that will be an organic farm for all our grocery needs. It will also have a marketplace, zen gardens, concert venue, yoga center, massage & reiki, open land, curated events & ceremonies. The Blissful Epicenter will be an open space for our community to be stewards of the Earth & return home. 
Short term — Our lease ends at the end of next year. So we are on the look for a new space until we find our permanent space for our Blissful Epicenter. 
One last question…why should our community support local?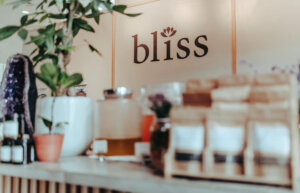 The number one perk to consider, for obvious reasons, is that supporting local means that you care about the community that you live in. You'll be able to put money back into your community and the other people who call it home. It'll give your local economy a chance to thrive, linking neighbors in a web of economic and social relationships that is beneficial for all. 
Bliss is very passionate about supporting local farms. Locally grown food provides health benefits and helps to reduce environmental impact. It also helps bring the community together and gives people the opportunity to make a difference. We think local food tastes better and lasts longer!